Back
Printer Friendly Version
Friday, February 6, 2009
Everyone should be free to criticise an ideology called 'Submission'.
For the hard of thinking – Islam is an ideology, independent of race.
by StFerdIII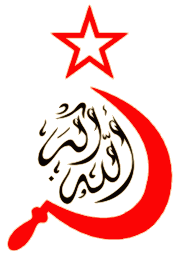 Islam was originally premised on Arab culture, and Arab imperialism was based of course on the Koran and the word of God given by the 'prophet' or military-political leader Mohammed. This ideology, dressed up in a religious skirt and head-dress, has of course mutated across races, tribes, geographies and cultures. Criticising Islam for what it is – a pagan fascism – is hardly racist. There is no racism involved in criticising a set of ideas which lead to violence, calls for world domination and racism and supremacism.

In fact the opposite is true. Islam mandates racism – it always has. Hating, vilifying, and converting Jews, Kaffirs, or 'untermenschen' is a part of Arab-Islamic history and its founding documents and leaders. That is simply a fact. Over 1400 years this combination of racist-supremacist ideology has spurred waves of Islamic warfare and violence. That is also simply a historical fact. Blaming Islamic violence on the 'West' or the Crusades is about as intelligent as believing Hitler's ravings that German-Nazi aggression against the 'subhumans' was a repayment for the destruction of Germany caused in World War I - caused by the same groups who under Hitler's grand plan, had to be eliminated. How convenient.

Calling someone a racist, because he or she criticises an ideology - such as Islam - which is a mix of supremacism and racism, is about as intelligent and consistent as those who criticised Churchill during the 1930s for his denunciations of the Nazi regime -labeling him of course a Germanophobe [which is not nearly as bad as being called a Homophobe of course]. Churchill was right, his many critics wrong. So it goes with the ideology called 'Submission' today. The main reason why the 'great' minds of the world - at say those extremely relevant organisations called Human Rights Commissions - cannot abide any critique of Submission, is that the ideology is largely held by what are termed minorities, and non-Whites. Ergo, according to the logic of those who protect and laud Islam, no criticism can be allowed. It is racist.

It is very hard to understand the logic around protecting an ideology which demands not only submission but world domination and has been on the march for 1400 years against any and all cultures and races. In fact one of Islam's great strengths as a political project has been its many 'waves' of race conversion - which historically has led to war. The Arabs, Persians, Turks, Blacks and South Asians have all converted in part and in various regions, to Islam. After each general conversion there was widespread war and Islamic expansion. In fact it was war which begat conversion which then stimulated further warfare and imperial expansion. Islam is quite simply the greatest multi-racial imperial project in history. This is probably why the current multi-cultural fetish - and its elitist supporters - are so tenacious in defending Islam from any criticism.

Three ideas unified disparate races from Europe to Asia to embrace what is, and what has always been, an Arab pagan practice:

1.The usual human desire for salvation, acceptance and an afterlife.
2.Joining the winners and getting a share of the spoils, gold and women and avoiding taxation, slave status, the loss of property and even death.
3.Power and the organisation of society through the very strict and quite limiting artefacts of law found in Sharia Law, Koranic injunctions, and various rules interpreted as fact found in the Hadiths.

There are many practical reasons why someone might convert to Islam. Jews under Byzantine rule for instance actually aided the Arab invasions in the 7th century. Many Jews resented Greek-Roman rule and the alien culture of the Gentile. Many Greek-Jewish wars populate history, along with excessive taxation, ghettoization and many eras of oppression. All they did was exchange one foreign power for another and even more violent suppressor of Jewish rights, one dedicated in part to Jewish destruction. Not a good trade off.

The power of Cultural Marxism:
There are many variants to Marxist theory – not all of them held or even intended by Karl Marx. One of the most powerful of these variations is 'cultural' Marxism. In the push to establish an egalitarian and communal based society, the founders of this theory held that destroying the West from without was impossible. Gramsci in the 1920s and 30s; the Frankfurt school in the 30s, 40s and 50s; and the 'relativitsts' such as Derrida and Foucault post World War II; all maintained that the West and its supposedly corrupt, unfair, and immoral inequality of wealth and opportunity distribution, could only be eradicated from within. It is a lesson that the Arabs and Muslims have very much taken to heart. Destroy the West from within, via immigration and social groups and Mosques posing as cultural artefacts, when in fact many are nothing more than political tools and bridgeheads.

The power of cultural Marxism is that Whites cannot criticise any group associated with a 'minority'.

This maxim is one of the key elements in Islam's plans for the West. The Arab states spend over $500 billion a year to fund mosques, web sites, groups, fascist organisations, and associations in the West, to promote fundamentalist Islam. Iran spends hundreds of billions of dollars to finance terror groups and networks designed to either eradicate Israel or impact US power. Organisations in North America like CAIR [Center for Arab-Islamic Relations] are financed by; and send money to; various terror groups.

There are Muslim only high schools now in North America – a fact unimaginable 50 years ago. Almost any university of any size has courses devoted to Muslim propaganda – portraying Islam as the Arabs and Muslims would like it to be seen, with nary a dissenting viewpoint or reality based look at the 1400 year Islamic program. TV, radio and Web Sites within North America disseminate endless pro-Arab and pro-Muslim propaganda, with the mainstream media only too happy to assist what it views as an oppressed minority. Again this is something that would have been inconceivable 50 years ago when people could still think and see reality for what it is or was.

One of the main tenets of cultural Marxism is to portray Whites, Jews and the 'West' as criminals. In this rewriting of history, all things White should be rejected because the White man attained and created modernity on the back, blood, and dead bodies of innocent 'colored' victims [see the terrible movie 'Dancing with Wolves' amongst many others for such a theme]. The White man is thus portrayed in Hollywood, on TV, and in the educational-media complex as an oppressor, a villain and a collective group which needs to pay for these alleged crimes against the more peaceful, tolerant, proud, 'connected', and superior colored person. To say that such an idea is stupid is an understatement. But no one ever has ever maintained that pop culture or main stream views had to resonate with intelligence. Rewriting history in such a fashion only serves to distort reality and promote the agendas of self seeking groups who desire the end to the modern world.

The Arabs and Muslims are well versed in the main ideas of cultural Marxism and propaganda. They are well financed. They have an extremist agenda. Mosques are mere beach heads in the West, designed not for charity, love or tolerance, but as a spring board for future domination. Europe, with its Muslim population of close to 40 million proves the point that demography and cultural Marxist ideals can neuter an entire Continent. North America should wise up before it is too late.



Article Comments: