Back
Atheists have destroyed the credibility of science
Immorality, fraud, corruption, lies....
Scientism, is the cult of science and the blind belief that 'science' whatever that word may mean, is always 'right'. Using science to 'sell' metaphysics is a very old program. For the modern Materialist, Marxist, National Socialist and Communist we have many cults that used science to sell their cant, dogma, lies, immorality and irrational stupidity including:
-Darwin's algae to alchemist theology [no proof of evolution was offered by Darwin, just grandiose fairy tales].
-Lenin's Marxism and Russian Socialism was proffered as the inevitable political-social development of society, buttressed by the science of Marx.
-Hitler's National Socialism used Evolution as its 'science' to prove that superior races must and did exist; and that the Aryan race at the apogee of development had a moral right to exterminate inferior races including Jews, Slavs and in Hitler's famous words, Catholics, who oppose 'science' [meaning evolution].
Atheism is a cult based on Materialist-Evolutionary metaphysics. Atheism is of course an immoral construct and informed both Communism and its twin, Fascism. Both of these programs are concerned with killing the individual and his free-will and placing him under the control of a communal cult. In this regard Atheists must have little issue with killing the weak, the sick, the 'naturally unevolved', or the sub-human such as Jews or Catholics who oppose Hitler's 'science'.
"If you want a simple explanation for lizard diversity on Caribbean islands, Darwinism isn't it, suggests an article on Science Daily about researchers from University of Nottingham who claim they are "shedding light on a 150-year-old evolutionary puzzle." The team could not rely on Darwin alone: "their model revealed that different ecological and evolutionary processes are responsible on each island." Call Ockham. Then call Dobzhansky (Mr. "Nothing in biology makes sense except in the light of evolution"). Evolution does not explain anything.
The objections to the cult of Darwin are endless. The above is one example amongst one billion. Anyone who has studied grade 9 science and biology would find the pond scum to professor theology laughable. DNA is software code and code does not write itself. Today unfortunately, corruption and mindless meme propaganda, is now taken to be science.
In this vein the hysteria over globaloneywarming can only be believed by an Atheist under whatever label they classify themselves [Humanist being the most common]. Plant food which is a trace chemical does not cause weather. Period. But if you hate the human, view modern civilization as a curse; extol abortion and the murder of old people, and scream that Islam-is-peace; than it follows rather religiously, that you will wail over plant food and its destruction of Gaia, based on fraud, data manipulation, lies and propaganda, all of which now means 'science'.
Science now means ignorance.
Globaloney-Warming: 43 Failed Green Fascist Predictions - Zero correct, every single one wrong
Stupid is not Science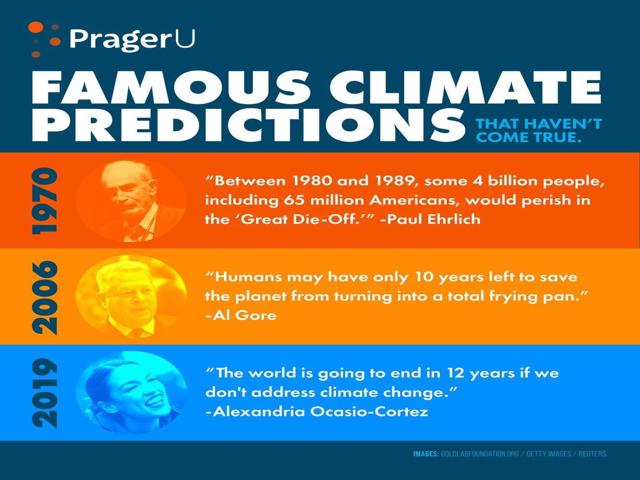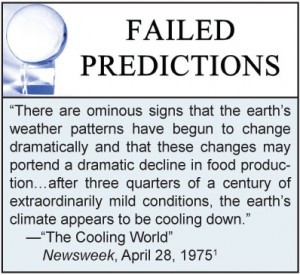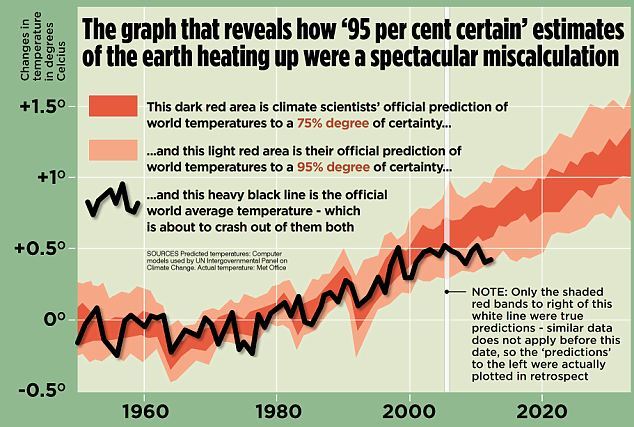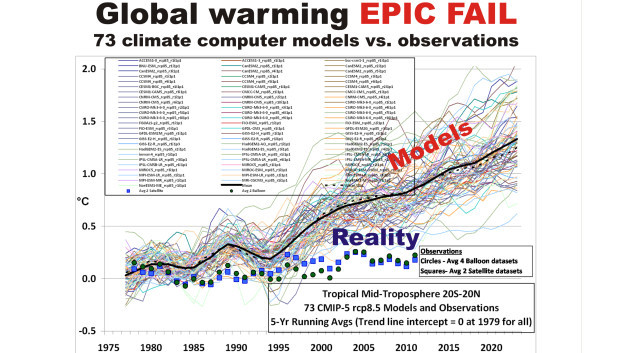 43 failed predictions. In 2004, the Green Tards forecast an end to civilisation in 2020. Yawn. Hussein Obama recently purchased a seaside property worth $15 million. Apparently, he does not really believe in the Globaloney-Warming nonsense either.
So a cult that: creates data fraud; rewrites temperature history; engages in corrupt and mindless propaganda; feeds off the $ 1 Trillion a year in funding available for its hysteria; rebrands plant food as a toxin; religiously believes that plant food which is .0004 gas by weight and only 5 % emitted by humans is somehow the control knob for climate; situates thermometers at airports, highways and urban heat sinks then proudly declares 'hottest days evah'….has been wrong on every single prediction; yet still calls itself 'science'.
Religiously believing that Plant food causes Globaloney-Warming is Stupid. And Stupid is not Science.
Failed Green Fascist Predictions:
2004 study; by 2020 widespread global anarchy, Siberian climate in Britain, European cities under water (that good-old standby – 'under water')

1967: Dire Famine Forecast By 1975

1969: Everyone Will Disappear In a Cloud Of Blue Steam By 1989 (1969)

1970: Ice Age By 2000

1970: America Subject to Water Rationing By 1974 and Food Rationing By 1980

1971: New Ice Age Coming By 2020 or 2030

1972: New Ice Age By 2070

1974: Space Satellites Show New Ice Age Coming Fast

1974: Another Ice Age?

1974: Ozone Depletion a 'Great Peril to Life

1976: Scientific Consensus Planet Cooling, Famines imminent

1980: Acid Rain Kills Life In Lakes

1978: No End in Sight to 30-Year Cooling Trend

1988: Regional Droughts (that never happened) in 1990s

1988: Temperatures in DC Will Hit Record Highs

1988: Maldive Islands will Be Underwater by 2018 (they're not), in fact 5 new airports were recently built

1989: Rising Sea Levels will Obliterate Nations if Nothing Done by 2000

1989: New York City's West Side Highway Underwater by 2019 (it's not) (in fact in 1970, this prediction was to occur by 1995, then was extended of course)

2000: Children Won't Know what Snow Is

2000s: Ebola, SARS would eliminate millions of people (Mommy Earth's 'attack' against the 'virus' of humanity)

2002: Famine In 10 Years If We Don't Give Up Eating Fish, Meat, and Dairy

2004: Britain will Be Siberia by 2024

2008: Arctic will Be Ice Free by 2018 (was originally 2013, and every year there-after)

2008: Climate Genius Al Gore Predicts Ice-Free Arctic by 2013

2009: Climate Genius Al Gore Moves 2013 Prediction of Ice-Free Arctic to 2014

2009: Climate Genius Prince Charles Says we Have 96 Months to Save World

2009: UK Prime Minister Says 50 Days to 'Save The Planet From Catastrophe'

2013: Arctic Ice-Free by 2015

2014: Only 500 Days Before 'Climate Chaos'

1968

: Overpopulation Will Spread Worldwide

1970

: World Will Use Up All its Natural Resources by mid 1990s (inducing famines etc)

1966

: Oil Gone in Ten Years

1972

: Oil Depleted in 20 Years

1977

: Department of Energy Says Oil will Peak in 90s

1980

: Peak Oil In 2000

1996

: Peak Oil in 2020

2002

: Peak Oil in 2010

2006

: Super Hurricanes!

2005

: Manhattan Underwater by 2015

1970

: Urban Citizens Will Require Gas Masks by 1985

1970

: Nitrogen buildup Will Make All Land Unusable

1970

: Decaying Pollution Will Kill all the Fish

1970s

: Killer Bees will ravage most of North America (Gaia's fightback against the human 'virus')
All of the above is taught in schools as 'science' and fact. A Low Information society.
Fake Climate Science and made up numbers: Australia
No it is not the hottest year 'evah' down under
An example of Fake Science, and the cult of Science, or 'Scientism', is the current hysteria by the Green Fascists, over rather normal hot weather and associated fires in Australia. Scientism and the Climate Cult maintain that Australia is experiencing the warmest week on 'record', with the warmest day on 'record' being December 17th 2019. In reality of course, these claims are completely false.
Fake Media weather channels in Australia will always have the 'meteorologist' standing next to a photo of the country, which is of course, saturated with orange and red (denoting burning up due to plant food, .0004% gas by weight). State funded channels (and education systems) repeat the Goebbelesque lie that the current warmth is an all-time record and that humans are the causal agents. None of this is true of course.
The embedded video by Tony Heller outlines why this story is simply Fake Science. People need to be more discriminating, for example:
-February 5th 1851 Melbourne was 115 F in the shade much hotter than the current week in the shade, with vast quantities of dead livestock and bushfires.
-The real record dates from Bourke NSW in 1909 – 125 F which is 21F above the current temperatures.
-The 'Records' used by the Fake News and State funded meteorology only go back to 1910, however 1909, the 1880s and 1890s were also much hotter than this week, so why is this data ignored?
-January 1923 in NSW recorded 120 to 123 degrees over a long period of time yet the Fake News and Fake Science have flattened these out and ignored them.
-Marble Bar NSW had 160 days of continuous 100+F heat from 1923 – 24.
-Likewise, the 'Records' presented lie about the 1930s temperatures as well, which in many places were much hotter than today.
-Only about 25 weather stations in Australia – most of them in the South East – have temperature records dating back 100 years. What about the rest of the country? How can anyone make the claim that 'this is the hottest week on record', if most of the country is left out of the analysis?
In summary, Australia is nowhere close to its highest temperature. Long lived temperature records which are scarce, indicate that the 1880s, 1890s, 1923-24, the 1930s were much hotter than today, which would show a long-term cooling, not warming trend. Based on the above, claims that this year is the hottest 'evah' in Australia is mindless propaganda and Fake Science.