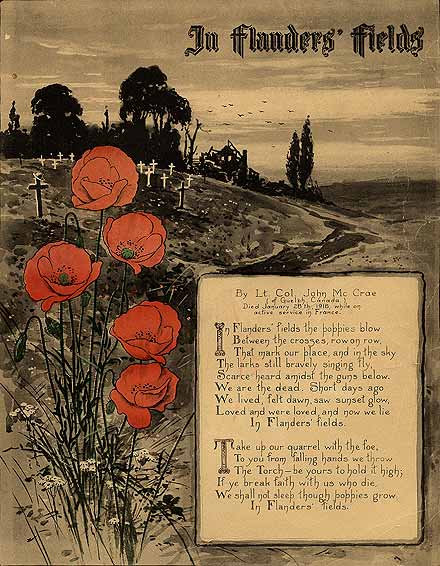 In the long war with Islam - 1400 years in fact - it is worth remembering what cannot be forgotten. Freedom is won not by pieties, UN declarations, post-modern moralizing or cultural relativity. Throughout history freedom from centralized despotisms, fascistic ideals, communal slavery, and various strains of Orientalism has only been achieved through war, sacrifice, blood, death, effort, pain, and realism. Boys turned to dust. Men broken. Nations crashed. The foolhardiness of human existence exposed. Questions about why it is so, about war, about the 'natural preoccupation' to quote Churchill, of mankind. The existential and mortal threats posed by the darker side of human nature. Forget not.

In the First or Great World War, scores of poets fought and died. Many were against the conflict. Some fought for the British empire out of Kiplingesque belief in national virility, destiny and the need to defeat Prussian militarism and authoritarianism. Others out of a sense of duty either professional or patriotic.

John McCrae was perhaps the most famous of the poets to fight and die from 1914-1918. As a doctor it was a professional oblige which compelled his service. His war career carried him to the bitterest points of the conflict. He saw too much of the suffering and death so emblematic of the Great War - much of it unnecessary and resulting from poor leadership, a lack of military creativity, and the unfortunate reality of fighting a trench war with advanced modern equipment.

McCrae's poem aptly sums up the spiritual resolve of men involved in such a colossal affair. The dead must be be honored by those who survive - by their victory and by the will of right to overcome the tyranny of might:

In Flanders fields the poppies blow
Between the crosses, row on row,
That mark our place; and in the sky
The larks, still bravely singing, fly
Scarce heard amid the guns below.

We are the Dead. Short days ago
We lived, felt dawn, saw sunset glow,
Loved, and were loved, and now we lie
In Flanders fields.

Take up our quarrel with the foe:
To you from failing hands we throw
The torch; be yours to hold it high.
If ye break faith with us who die
We shall not sleep, though poppies grow
In Flanders fields.

— Lt.-Col. John McCrae (1872 - 1918)

"If ye break faith with us who die, We shall not sleep..." In other words fight to win, fight knowing you are on the side of good, claim victory no matter what the costs or the terror, aware that freedom and history are on your side. This line is a magnificent description of why war is necessary and why freedom is only maintained through conflict. Don't let the valiant dead lie in Flander's Fields in vain. Uphold their spirit and honor the reasons why they died. Most importantly protect freedom and civilization in their name.

McCrae wrote this poem while sitting in the back of field ambulance looking at his friend's gave. A moment of sorrow and inspiration. His poem has turned the poppy weed into a symbol of Remembrance for those who died in the Great War and indeed for those who have sacrificed in any of the wars of the past century.

McCrae died in France in 1918 still on active duty. German chlorine gas attacks in Flanders in 1915, had damaged McCrae's lungs. He contracted pneumonia in 1918 died at age 45 in Wimereaux, France where he is buried near Calais.

McCrae, like the warriors of his poem and the now famous poppy weed - dead but certainly not forgotten.