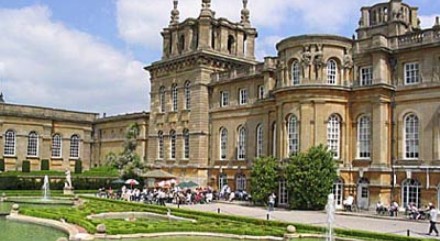 It certainly is appropriate that the greatest Briton in history and one of the most important men in modern Western history, was born into the Baroque-inspired brilliance of Blenheim Palace [even if by accident as his parents were there visiting at the time]. I have been there twice and would recommend both a visit and a reading of its history to anyone who has even a mild curiosity about Britain and her fascinating past. Blenheim eclipses almost every other British palace, including Buckingham in London. It stands above almost all other British palatial architectures. This massive structure and engineering marvel was built of course for John Duke of Marlborough, a poor boy who rose up to become the greatest general of his day and the man who beat back the European pretensions of Louis XIV or the Sun King. John was the ancestor of Winston and the Churchill's became part of the bluest of the British blue blood aristocracy.
Blenheim has almost 200 rooms, 2 dozen bathrooms, a 64 foot high marble based Great Hall, a 6000 square foot kitchen, and a 180 foot long Library. Being born in such a manner-home would indeed leave an indelible impression of self-confidence, romantic aspirations, and higher purpose. Culture trumps all. The cultural ethos of an estate like Blenheim would do quite a lot to inspire boundless self-confidence, a sense of duty and destiny, and aristocratic privilege – all characteristics that Winston certainly possessed.
Vanity Fair: "For 300 years, Blenheim Palace, seat of the Dukes of Marlborough, has awed all visitors, even the grandest among them. "We have nothing to equal this," King George III said with a gasp to Queen Charlotte in 1786 as they caught their first glimpse of the Baroque behemoth, in Oxfordshire.
Indeed, Buckingham House, as the monarch's dwelling was then called, was primitive by comparison. With seven acres under its roof, Blenheim arguably still eclipses in splendor and magnitude any of the British royal family's homes, and it is the only nonroyal, non-ecclesiastical residence in England styled a "palace." Its grandeur registered even with Hitler, who according to wartime lore planned to move in after his invasion of England and thus ordered the Luftwaffe not to bomb it.
The palace's cornerstone was laid in June 1705, less than a year after the first Duke of Marlborough's pivotal victory against the French on the fields of Blenheim, in Bavaria. On behalf of "a grateful nation," Queen Anne granted Marlborough and his heirs the 2,000-acre royal manor of Woodstock, and Parliament voted to provide funds to build on it a suitably magnificent structure."
Slide Show on Blenheim

It is fitting and right that Churchill was born in such a place. No other site would do.