Back
Printer Friendly Version
Sunday, April 13, 2008
Who are the 'poor' exactly?
Are the rich really getting richer?
by StFerdIII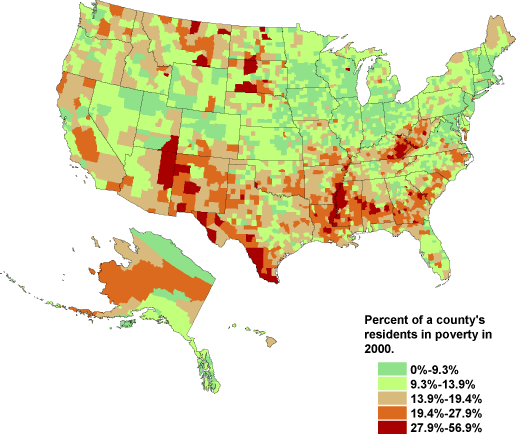 The lies about 'poverty' are legion. They make tearful reading. If you believe the media, academics, and the huge 'poverty' industry which feeds off of massive government welfare and poverty-relief programs, than poverty is a widespread pernicious evil, and soon to grow as rich whites and Jews get richer, and everyone else becomes poorer.

It is always the same wailing cry, 'what about the poor?' for politicians and activists. It sounds like a caricature of one of Dicken's bad books. The most annoying fact is this – real poverty has been declining for decades and afflicts a very small percentage of people and it has no relationship to massive government welfare and programs of compassion. None.

Consider these facts:
-American University published a 2007 which concluded that the average family income per person has gone up by 35% in the past 20 years, and income per peson was up 153 percent [fewer little apes per household].

-There is a 60% chance – thanks to income and social mobility – that income earners in the bottom 20% will leave that 'class' of earners and move up the income ladder.

-Between 1979 and 2004 the number of US households earning less than $75.000 per year, fell by 10% while those earning more than $75.000 increased by the same. [translation for Marxists – 'more people are getting wealthier']

-In 2007 alone net income in the US went up by $500 billion – about the same as the 'housing mortgage crisis' which is supposed to destroy capitalism and usher in an era of benign socialist peace under King Obama or Queen Hillary.

-The top 10% of tax payers actually saw a reduction in earned income since 2000, while still paying close to 50% of the national income tax. Just for the record, the bottom 50% of income earners pay a whopping! 3% of the total national income tax [that must truly please the inner marxist in all of us].

How about this factoid. Poverty rates – real and nominal – were about 25 % or so in 1950. Fifty odd years later they are 8-12% depending on which report you read and what your definition of poverty is. The trend however is rather clear – it is going down. This downward trend should be met with positive comments and some degree of satisfaction. After all who wants to see poor people hanging around society? Not many. So are we happy that we are winning the 'war' against poverty? Of course not!

It is much better to be negative and to hate the world. Instead of focusing on what works to relieve poverty, the little minds of the world, do the opposite. They scream out lies and distortions and claim that the 'system' is racist, bigoted, unfair or too white. They then expect taxpayers to fund all sorts of crazy ideas to 'solve' all of these 'inequalities' [all men are created equal you know] which exist and which apparently create 'the working poor'. Yet paradoxically they try to halt the very programs and market conditions which actually do relieve poverty. For the class marxists and compasionate socialists only government should help the poor. But what the little dears don't get is that government is the problem, not the solution for the 'poor'.

The series of marxist lies start with who is poor. In the US, the poverty rate is set at $19.900 per year in income for a family of four. This is admittedly a pretty low income number. The census says that 12.7% of Americans are at or below this number. There are of course many problems with this 'fact'.

First, it leaves out the black market or non-taxed transactions. Second, it ignores cash grants and cash transfers. Third, it ignores the asset wealth of those in this income group. When you analyse 'the poor', you find out that not many of them are really poor at all. How about these facts:

-50 % of US poor own their own homes [yet net assets are never used in accouting for who is poor].
-75% own at least one car with 1/3 owning 2 cars.
-97% own a color TV
-Poor US blacks live in more square footage than the average European [average not poor – average].

Very few Americans – maybe 2% - earn a minimum wage [now reset to $7.25 per hour] to support a family. Most minimum wage earners only stay that way for less than one year and most are part-time and teenagers. In other words poverty is about choice and about not following guidelines to get and stay out of poverty. So how does one become poor?

-have kids when you are young and out of wedlock
-drop out of school
-don't work hard
-go on welfare
-get involved in crime and drugs
-be part of a broken family

If you follow that program you will be poor.

Interestingly in the US the poorest urban areas have been run by left wing politicians and the democrats for more than 40 years with nary an anti-socialist in sight. These poor left wing run cities with poverty rates of over 25% include Cleveland, Detroit, Miami, Atlanta, Buffalo, Philadelphia and the corrupt black run city of New Orleans. Interesting isn't it?

In the past 10 years the income of the poor 1/5 has increased by over 10%. Poverty can be reduce by trade, opening up job opportunities through having a dynamic economy where productivity and profits open up new sectors, new products and new jobs. Having a rigidified, protectionist society only adds to poverty, it does not decrease.

Neither does government welfare, the huge 'poverty' industry which feeds off of bloated budgets or allowing illegals to happily walk into the country and low bid jobs away from poor blacks and whites. Instead of government redistribution to help the poor, it would be more efficient and cheaper, to have all people earning $100.000 or more a year to simply write cheques directly to the poor and monitor the use of that money. That would save billions a year in government welfare and force those receiving the money to start to change their behaviors and their lives [no behavioral change no more private welfare grants].

Poverty is something which will never be eradicated. All men are created equal in the eyes of God but capabilities and skills are anything but equal between people. The best system to help the poor is one which can teach them what patterns, behaviors and attitudes will lead them out of poverty, and which gives them a chance to get and keep a job.

Any other system is nothing more than failed Marxist lunacy and should be avoided at all costs. It certainly does nothing to help the poor.
Article Comments: