Ribosomes. Ask an Atheist or a 'scientist' how ribosomes 'evolved' by magic from nothing? Further ask the huge brain about proteins. 300 amino acids on average per protein string. All arranged in sequence, supposedly by chance, to form strings of utility and function. The chance that randomness would create such profound information software is less than zero. Ask the massive cranium scientist how many proteins exist in the average human. We don't even know. 2 million for certain have identified, the number is quite likely 10 million. There is not enough time in 4.5 billion years to produce just one protein string by accident, let alone 2 to 10 million. But let's not allow science and reason to get in the way of Darwin's fairy tales...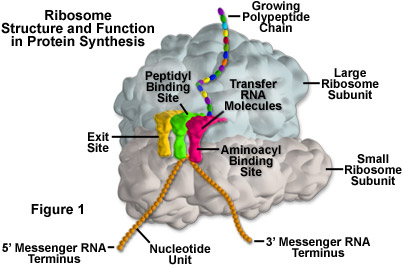 All that complexity by random chance ?
Nature: "Within the ribosome, the rRNA molecules direct the catalytic steps of protein synthesis — the stitching together of amino acids to make a protein molecule. In fact, rRNA is sometimes called a ribozyme or catalytic RNA to reflect this function."
In other words ribosomes are the assembly lines of protein manufacture, within the cell's factories. According to the acolytes of the cult of chance, manufacturing processes, information systems and software all can appear by magical, undirected processes which are 'striving' for 'competitive advantage' and 'naturally select' the best software or systems, named 'traits'. Gibberish. Darwin's cult is low on scientific content. Heavy on the tautology and rhetoric. How can I select from code I don't have ? How can a manufacturing process self-assemble?