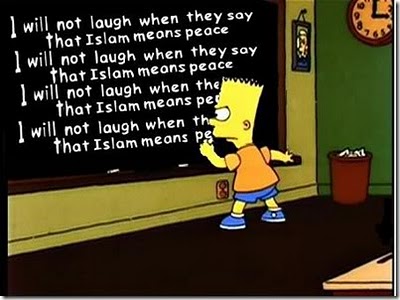 Orwell had it right so long ago. Orwell was a 'liberal' or someone who during the 1930s and 40s was sympathetic to ideas around social reform, welfare and more government involvement, but he knew that liberalism needed to be managed and kept small. Otherwise the entire reality of the 5 senses would become distorted with viewpoints 'so stupid that only liberals can hold them' to quote the writer of 1984 and Animal Farm. The current mainstream media reflects that sentiment.
Only the MSM and its 'liberal' [aka socialist and Marxist] cult members could promote and hold views so stupid. Far from being 'smart' most of the chattering media and political elite are ignoramuses, encased in a mythical theology so profoundly ridiculous and obtuse that reasonable people cannot possibly understand what they are trying to say. Consider Islam. If you read the history of Islam, of Arabian cults, of Mohammed and the development of Islamic imperialism; and if you read the Koran; you will notice rather quickly that Islam is nothing else other than a political ideology of complete societal control. This used to be called totalitarian Fascism. Now the MSM, along with academics and politicians, inform us that totalitarian Fascism is actually a religion.
But this is nothing new. One of my interests is in Churchill. During the 1930s he was excoriated by the media [or a large faction of it]; for his constant observances and publicly discharged declamations of the threat of Nazism and what he rightly called the cult of Hitler. Churchill often stated that the British had no quarrel with the German people – just with the totalitarian Fascism expressed through the Hitler cult. But the media missed that part. They called Churchill a Germanophobe. Sound familiar? Criticize a Meccan moon cult and cult of Mohammed and you are called an Islamophobe. The eras pass by. The infantile reporting does not. It just migrates.
So now we are regaled by media illogic on an Orwellian scale.
A moon cult is now a religion. [Is Hitlerism also a religion?]
A cult formed by the military adventurer Mohammed, which was rightly named in times past Mohammedism or the cult of Mohammed, is now conflated with Christianity. [Is Communism also a Christian-like theology?]
Mohammed the man who led 80 odd military expeditions, had people murdered, killed with his own hands, owned and sold slaves, had 12 or more sex slaves; and who was a racist and quite mad [he went insane according to the Hadiths and Koran at age 40]; is now a 'prophet'. [Was Mao one as well ?]
The Koran is a holy book even though it is littered on every page with racism and supremacism. [Is Mein Kampf or Lenin's 'Imperialism' also holy?]
A cult of violence, terror, with daily examples of blood lust and irrational illiteracy is promoted as peaceful, tolerant and modern. [So too is Castroism and Chavezism one supposes].
The inversion of the world and reality is almost complete. Enter Barry Rubin and his example on how the media treated the pathologically insane cult of Communism in 1953 after Stalin died poisoned by the head of the KGB the sexually deviant Beria:
"Covering dictator Joseph Stalin's funeral in 1953, Salsbury wrote:
"Mr. Georgi Malenkov [the new leader, soon to be supplanted by Nikita Krushchev] and his comrades at arms appeared to have the support and enthusiasm of Soviet citizens of all walks of life....The words of Mr. Malenkov seemed to have sent a surge of hope through the Soviet listeners."

This quotation shows some common characteristics of American or Western journalists and analysts to this day:
......Contrary to Salisbury's soothing account, here is the actual key theme of what Malenkov said:

"We must train the Communists and all working people in the spirit of high political vigilance, of intolerance and firmness in the struggle against internal, inner and the foreign enemies."

Bertram Wolfe, himself a former Communist and a leading expert on the USSR at the time, gave his own interpretation of this sentence:

"That means to the Soviet people that the new government is determined to continue its war on its own people [`the struggle against internal, inner...enemies'] and on other peoples [`the foreign enemies']. What reason for hope can the Soviet people take from such an address?"
Salisbury was hardly alone in his dishonest reporting. Dozens of others were complicit in their 'analysis' or 'factually based' reportage on both the Nazi and Communist cults. For many sundry psychological, theological and political reasons, the media ignores the reality of what is encased in a totalitarian Fascism; and instead imposes its own 'view' on what the dictatorship or un-free system 'should be'. Media misinformation on Communism is simply an example of the same determined and quite deliberate attempt to assign to Islam attributes that the cult of Mohammed simply does not contain in its liturgy; its practice; its societal implementation; nor in any of its historical developments. Conflating Islam with Christianity is as egregious and criminal, as conflating Nazi Germany with Churchill's Britain. There are absolutely no similarities between the two.
====
Barry Rubin is director of the Global Research in International Affairs (GLORIA) Center and editor of the Middle East Review of International Affairs (MERIA) Journal. His latest books are The Israel-Arab Reader (seventh edition), The Long War for Freedom: The Arab Struggle for Democracy in the Middle East (Wiley), and The Truth About Syria (Palgrave-Macmillan). The website of the GLORIA Center is at http://www.gloria-center.org and of his blog, Rubin Reports, http://www.rubinreports.blogspot.com.
====